Advanced Technology, Construction and Welding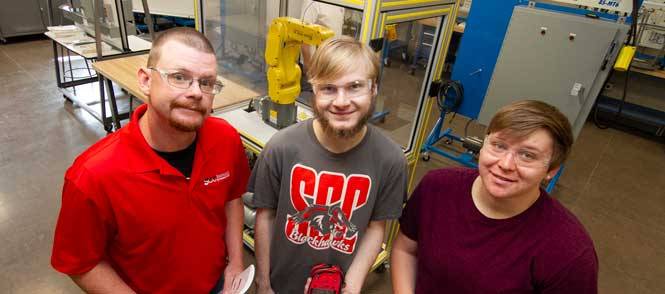 Build your skills, build your career.
Advanced Automation and Robotics Technology - Certificate, Diploma & AAS
The Advanced Automation and Robotics Technology program is designed to prepare technicians to troubleshoot, service and fix the computerized control systems and robotic devices that are designed to reduce human interaction in manufacturing environments. Students will gain knowledge and apply skills in advanced electrical, electronic and robotics systems. Students will apply networking skills integrating to automated equipment encompassing robotic components, sensors, controllers, and computers to support autonomous work.
View program
---
Advanced Manufacturing Technology - AAS
Thinking about a career in manufacturing or industrial technology?
Then SCC is the place for you. As long as there are companies that make stuff, there will be a need for people to keep them up and running. We'll teach you what you need to know to do just that. Learn how to build things from concept to completion or study the operations side and learn what it takes to keep entire assembly lines up and running at peak efficiency.
View Program
---
Computer Aided Design Technology - AAS
You can't make anything until you design it. Learn the skills to master computer-aided design (CAD) and understand how design is a process involving a number of players.
View Program
---
Construction Technology- Carpentry Emphasis - Certificate, Diploma & AAS
Learn it. Build it. Do it.
As businesses, families, and communities grow, quality construction and carpentry will always be a necessity. Build upon your blueprint to a stable and successful career with hands-on training in SCC's Construction Technology- Carpentry Emphasis program.
View Program
---
Construction Technology - Management Emphasis - AAS
Climb the ladder to success in construction technology management at SCC. Gain hands-on experience with our high-tech tools and equipment while you learn the skills to master a career in building things better. Check out our transfer option with Western Illinois University to take your career even further.
View Program
---
Industrial Maintenance Technology - Certificate, Diploma & AAS
It takes expensive machines to make stuff in today's world and companies pay big bucks to people who can keep them running. Develop strong mechanical and electrical skills so you can troubleshoot and maintain practically any machine in today's modern production facilities.
View Program
---
Welding Technology - Certificate, Diploma & AAS
Join a dynamic industry with a big future. Get hands-on training with the latest types of equipment including oxyacetylene, shielded metal arc, gas metal arc and thermoplastic welding in SCC's Welding program. Start here and enjoy a career in a variety of businesses with exciting opportunities from operating high-tech robots to running powerful lasers.
View Program
---
Request
Info
Want to know more about our programs or transfer options?
Call us at (319) 208-5010
Why
SCC?
Learn how to become a student.
See what our grads have to say about SCC.
Career
Coach
Where will my degree take me?
Will I like what I do?
What are my job prospects?