Health Professions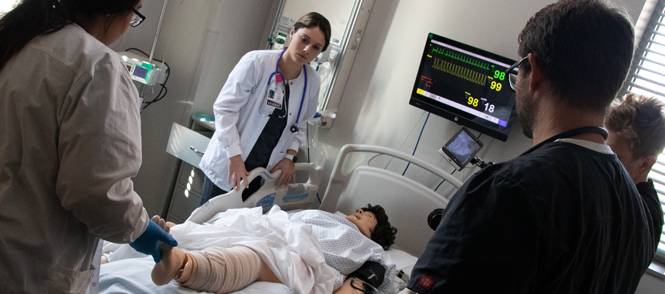 Ever been to a hospital in our area? SCC grads work everywhere from small offices and clinics all the way to some of the largest hospitals in the Midwest.
Emergency Medical Services - Certificates and AAS
If you love the adrenaline rush of being in emergency situations, a career as an EMT could be just what the doctor ordered. Learn what it takes to make vital decisions and take action when seconds count. Get the skills you need to join a fire department or other first responder organizations.
View program
---
Medical Assistant - Diploma
In less than one year, you can have a good job in health care with stability and growth. Learn how to apply your medical skills in practical situations and perform a variety of health care functions.
View program
---
Medical Coding and Billing-Physician Emphasis - Diploma
The Medical Coding and Billing-Provider Emphasis Diploma provides the latest information related to medical coding, chart auditing and insurance reimbursement.
View Program
---
Medical Scribe - Certificate
You want to work in health care but can't commit to a lot of college or training. Medical scribe might be for you. Medical scribes work with physicians to input patient information into a computer while the physician treats the patient. This one semester program includes classes in anatomy and medical terminology that can provide the foundation you need to get an entry-level job in a doctor's office or to continue for further study.
View Program
---
Nurse Aide
In as little as eight weeks, you can learn the skills to qualify for an entry level position in the healthcare field.
View Program
---
Nursing - Practical Nursing and Associate Nursing Degrees and Diploma
You're compassionate, detail-oriented and know how to handle stressful situations. You would make an excellent nurse! Earn your Licensed Practical Nurse (LPN) degree and find entry-level nursing jobs or go for your Associate Degree Nurse (ADN) qualify for all sorts of nursing jobs in facilities large and small.
View Program
---
Occupational Therapy - AAS
If you are searching for a career that is meaningful, health related, and provides a range of study opportunities with diverse work settings to choose from, occupational therapy might be a perfect fit for you. Occupational therapy is an exciting and growing profession that enables people to develop or retain independence when disability, illness, or other barriers create difficulty in living life to the fullest. Occupational therapy is set apart from other professions in health care because of its holistic nature. OT values the whole person and enables people of all ages and abilities to engage in the activities - the occupations - that are meaningful to their lives.
View Program
---
Pharmacy Technician - Diploma
Whether you're ready to jump start your career as a Pharmacy Technician or you just want to take the first steps toward a career as a Pharmacist, we have the program for you. Pharmacy Technicians are responsible for measuring, mixing, counting, labeling, and recording medication dosages, verifying prescriptions from physicians, and maintaining patient records and insurance information under the direct supervision of a registered pharmacist in a hospital or retail pharmacy. Pharmacists and patients will be relying on you.
View Program
---
Respiratory Care - AAS
Respiratory care deals with all aspects of the heart and lungs from babies through adulthood. It ranks among the top 20 fastest growing occupations, and companies love to hire SCC grads. That's because they know their stuff. Our two-year program includes tons of hands-on experience in clinical sites across the region.
View Program
---
Request
Info
Want to know more about our programs or transfer options?
Call us at (319) 208-5010
Why
SCC?
Learn how to become a student.
See what our grads have to say about SCC.
Career
Coach
Where will my degree take me?
Will I like what I do?
What are my job prospects?